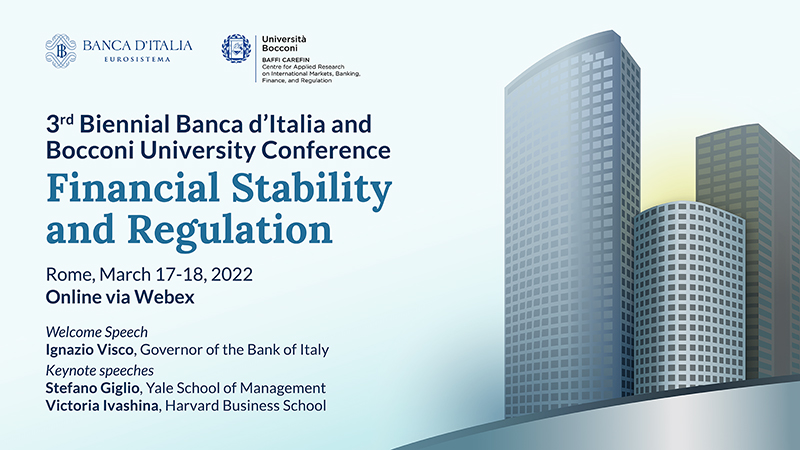 The Bank of Italy and Bocconi University - BAFFI CAREFIN have organized in an online format the third biennial conference on 'Financial stability and Regulation' on March 17-18, 2022.
The Governor of the Bank of Italy, Mr. Visco, has given the welcome speech to the participants.
The aim of the conference is to bring together leading world scholars and policy-makers to discuss topics related to financial stability, regulation of the financial sector and use of macroprudential policies.
The conference has featured keynote lectures by Stefano Giglio (Yale School of Management) on Climate Finance and by Victoria Ivashina (Harvard Business School) on the financial stability implications of Covid-19.
Thursday, March 17
Welcome Speech
Welcome address (pdf)
Ignazio Visco, Governor, Bank of Italy
Session I - Bank Regulation
Chair: Alessio De Vincenzo, Bank of Italy
"Granular credit risk" (pdf) (slides)
S. Galaasen Norges Bank, R. Jamilov London Business School, R. Juelsrud* Norges Bank, H. Rey London Business School
Discussant: D. Pierret University of Luxembourg (discussion)
"Bank funding and regulatory changes: Evidence from euro area security registers"
C. Altavilla ECB, C. Melo Fernandes IMF, S. OngenaUniversity of Zurich, A. Scopelliti* ECB
Discussant: S. Doerr BIS
Session II - Monetary Policy and Non-banks
Chair: Cornelia Holthausen, ECB
"Nonbank Lenders as Global Shock Absorbers: Evidence from US Monetary Policy Spillovers" (pdf) (slides)
D. Elliott* Bank of England, R. R. Meisenzahl Chicago Fed, J. L. Peydró Imperial College London
Discussant: T. Eisert Erasmus School of Economics (discussion)
"Monetary Policy and the Run Risk of Loan Funds" (pdf) (slides)
N. Cetorelli* New York Fed, G. La Spada New York Fed, J. A. C. Santos New York Fed
Discussant: Y. Ma Columbia Business School (discussion)
Keynote Speech I
Chair: Sergio Nicoletti Altimari, Bank of Italy
"Financial stability challenges in the aftermath of the Covid crisis" (slides)
Victoria Ivashina, Harvard Business School
Session III - Financial implications of fiscal and monetary Policy
Chair: Emilia Bonaccorsi, Bank of Italy
"Loan Guarantees, Bank Lending and Credit Risk Reallocation" (pdf) (slides)
C. Altavilla ECB, A. Ellul Indiana University, M. Pagano University of Naples Federico II, A. Polo* Luiss University, T. Vlassopoulos ECB
Discussant: O. Darmouni Columbia Business School (discussion)
"Zombie Lending and Policy Traps" (pdf) (slides)
V. V. Acharya NYU Stern, S. Lenzu NYU Stern, O. Wang* NYU Stern
Discussant: J. Begenau Stanford Graduate School of Business (discussion)
Friday, March 18
Session IV - Green Banking
Chair: Valerie Herzberg, Bundesbank
"Banking Barriers to the Green Economy" (pdf) (slides)
H. Degryse* KU Leuven, T. Roukny KU Leuven, J. Tielens National Bank of Belgium
Discussant: D. Bonfim Banco de Portugal (discussion)
"Green Capital Requirements" (pdf) (slides)
M. Oehmke* LSE, M. Opp Stockholm School of Economics
Discussant: C. Parlatore NYU Stern (discussion)
Keynote Speech II
Chair: Elena Carletti, Bocconi University
"Climate Finance" (slides)
Stefano Giglio, Yale School of Management
Session V - FinTech
Chair: Giorgio Gobbi, Bank of Italy
"Regulatory Sandboxes and Fintech Funding: Evidence from the UK" (pdf) (slides)
G. Cornelli BIS, S. Doerr BIS, L. Gambacorta BIS, O. Merrouche* Université Paris Nanterre
Discussant: F. Braggion Tilburg University (discussion)
"Broadband and Bank Intermediation" (pdf) (slides)
A. D'Andrea* Bocconi University, M. Pelosi Bank of Italy, E. Sette Bank of Italy
Discussant: J. Granja Chicago Booth School of Business (discussion)
Session VI - Financial Crises and Policy Responses
Chair: Javier Suarez, CEMFI
"The Carrot and the Stick: Bank Bailouts and the Disciplining Role of Board Appointments" (pdf) (slides)
A. MückeGoethe University Frankfurt, L. Pelizzon* Ca' Foscari University of Venice, V. Pezone Tilburg University, A. Thakor Washington University in St. Louis
Discussant: A. Silva Federal Reserve Board (discussion)
"Dissecting Mechanisms of Financial Crises: Intermediation and Sentiment" (pdf) (slides)
A. Krishnamurthy Stanford Graduate School of Business, W. Li* University of Southern California
Discussant: M. Baron SC Johnson Graduate School of Management, Cornell University (discussion)
Concluding remarks
Filippo De Marco Bocconi University and Anatoli Segura Bank of Italy
------------------------------------
For each paper the presenting author is indicated with *