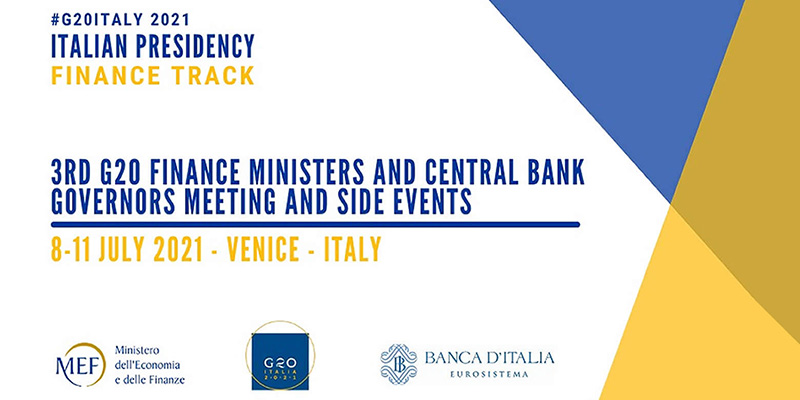 On 9 and 10 July 2021, G20 Finance Ministers and Central Bank Governors (FMCBG) gather for the third time under the Italian G20 Presidency. This is the first in-person Finance Track meeting since February 2020.
G20 members will progress their discussions on issues related to international economy and global health, and on the efforts geared towards economic recovery and promoting a more sustainable growth. Ministers and Governors will also touch upon the link between the digital revolution and productivity, support to the most vulnerable countries, international taxation matters, financial sector issues, and financing the green transition.
10 July 2021: Communiqué - G20 Finance Ministers and Central Bank Governors
From Thursday 8 to Sunday 11 July, a number of side events are held on the occasion of the G20 FMCBG Venice meeting. These include:
Governor Visco - Interview with CNBC - 11 July 2021
Senior Deputy Governor Signorini - Interview with Class CNBC - 13 July 2021 (only in italian)

The Italian G20 Finance Track Presidency
G20 Finance Ministers and Central Bank Governors (FMCBG) have already met twice under the Italian G20 Presidency.
The first official meeting was held on 26 February 2021 - Ministers and Governors acknowledged that health and economic conditions remained difficult despite the launch of vaccination campaigns and signs of strengthening economic activity. In February, they also expressed a strong commitment to scaling up international coordination to tackle global challenges by adopting a stronger multilateral approach and focusing on a set of core priorities.
G20 FMCBGs met again on 7 April 2021 - In their second meeting, G20 Ministers and Governors recognised that after the economic contraction registered in 2020 the global outlook has improved, mainly due to the roll out of vaccination campaigns and continued policy support. Nonetheless, the recovery appears clouded by uncertainty and is uneven across and within countries. G20 Members agreed on a series of commitments which are detailed in the official Communiqué issued at the end of the meeting.