Main results
According to the Bank of Italy survey conducted between March and May of this year, in 2016 the total turnover of firms in non-construction industry and non-financial private services with at least 20 employees increased again, although at a slower pace compared with the previous year. Sales volumes grew for manufacturing and service firms, but not for those in the energy and mining and quarrying sectors.
The positive trend in sales stimulated employment growth; however, the degree of capacity utilization in the manufacturing sector remained stable, with ample room for growth. Own prices increased again modestly partly owing to the still subdued growth in demand.
Firms expect the growth in sales to strengthen in 2017 and own prices to increase further, mainly on account of higher commodity prices.
nvestment spending continued to grow, albeit at a slower pace than the previous year, due to a slowdown in the service sector and a contraction in the energy and extraction sectors (as forecast by firms in the previous survey), which weakened the impulse of the strong improvement in the manufacturing sector. Total investment growth in 2016 was almost entirely driven by smaller firms, which seem to have brought forward some expenditures in order to benefit from incentive measures which were expected to expire at the end of the year.
Firms' investment plans for 2017 suggest a further, albeit less intense, growth in spending mostly driven by greater capital accumulation by large firms.
After stagnating in 2015, construction firms' output began to decline again in 2016, reflecting a drop in public works and the need to adjust to the new requirements of the most recent public procurement law.
Investment (1)
(percentage changes)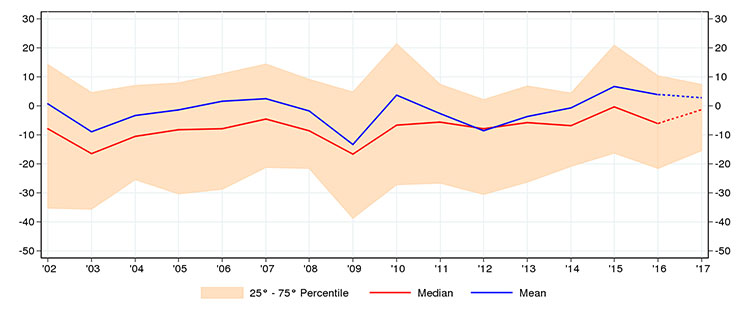 Note: (1) Not including the construction sector; calculated at constant prices using deflators found in the survey. Statistics weighted by firm distribution and investment spending. Dotted lines indicate firms' expectations for 2017.
Reference period: 2016